No ultimo dia 7 de Dezembro foi realizado o emocionante Video Game Awards "VGA", a principal premiação da Indústria de Jogos, onde vários games são premiados em diversas categorias, incluindo jogo do ano, melhor estúdio, melhor música, entre outros.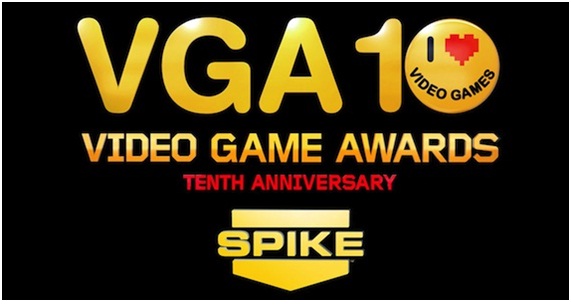 Entre os jogos que mais se destacaram estão The Walking Dead que levou cinco prêmios, incluindo Jogo do Ano, Estúdio do Ano, Melhor Performance Feminina, Melhor Adaptação e Melhor Jogo de Download. Já Borderlands 2 (Gearbox Software) conseguiu o feito de levar os títulos de Melhor Jogo Multiplayer e Melhor Jogo de Tiro. E Journey venceu em três das sete categorias em que foi indicado, Melhor Jogo de PS3, Melhor Trilha Sonora Original e Melhor Jogo Independente.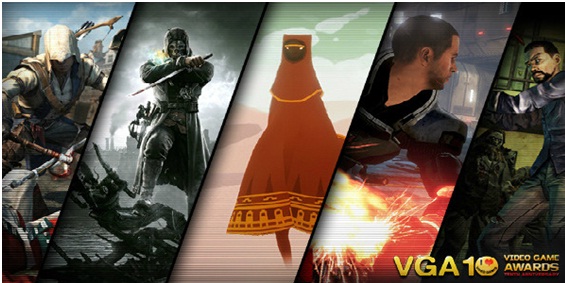 Os grandes hits do ano não fizeram, ao contrario do esperado, não foram destaques. Assassin's Creed III (Ubisoft) e Call of Duty: Black Ops 2 (Activision) não venceram nenhuma categoria. Halo 4 (343 Industries) levou Melhor Jogo de Xbox 360, como já era esperado, e Melhores Gráficos. Dishonored (Bethesda) ficou só com Melhor Jogo de Ação e Aventura.
Confira a lista completa dos premiados no Video Game Awards 2012 promovido pela Spike

Melhor Jogo
The Walking Dead – The Game
Assassin's Creed III
Dishonored
Journey
Mass Effect 3
Estúdio do Ano
Telltale Games
343 Industries
Arkane Studios
Gearbox Software
Melhor Jogo de Xbox 360
Halo 4
Borderlands 2
Assassin's Creed III
Dishonored
Melhor Jogo de PS3
Journey
Assassin's Creed III
Borderlands 2
Dishonored
Melhor Jogo de Wii/Wii U
New Super Mario Bros. U
The Last Story
Xenoblade Chronicles
ZombiU
Melhor Jogo de PC
XCOM: Enemy Unknown
Diablo III
Guild Wars 2
Torchlight II

Melhor Jogo de Tiro
Borderlands 2
Call of Duty: Black Ops 2
Halo 4
Max Payne 3

Melhor Jogo de Ação e Aventura
Dishonored
Assassin's Creed III
Darksiders II
Sleeping Dogs
Melhor RPG
Mass Effect 3
Diablo III
Torchlight II
Xenoblade Chronicles

Melhor Jogo Multiplayer
Borderlands 2
Call of Duty: Black Ops 2
Guild Wars 2
Halo 4
Melhor Jogo de Esporte Individual
SSX
Hot Shots Golf World Invitational
Tiger Woods PGA Tour 2013
WWE '13

Melhor Jogo de Esporte Coletivo
NBA 2k13
Madden NFL 13
Fifa Soccer 13
NHL 13
Melhor Jogo de Corrida
Need For Speed Most Wanted
Dirt Showdown
F1 2012
Forza Horizon

Melhor Música
Cities, de Beck (Sound Shapes)
Castle of Glass, de Linkin Park (Medal of Honor Warfighter)
I Was Born for This, de Austin Wintory (Journey)
Tears, de Health (Max Payne 3)

Melhor Trilha Sonora Original
Journey
Call of Duty: Black Ops 2
Halo 4
Max Payne 3

Melhores Gráficos
Halo 4
Assassin's Creed III
Dishonored
Journey
Melhor Jogo Independente
Journey
Dust: An Elysian Tail
Fez
Mark of the Ninja

Melhor Jogo de Luta
Persona 4 Arena
Dead or Alive 5
Street Fighter x Tekken
Tekken Tag Tournament 2

Melhor Jogo para Portátil ou Celular
Sound Shapes
Gravity Rush
LittleBigPlanet PS Vita
New Super Mario Bros. 2
Melhor Performance Feminina
Melissa Hutchison, como Clementine (The Walking Dead – The Game)
Emma Stone, como Amanda Cartwright (Sleeping Dogs)
Jen Taylor, como Cortana (Halo 4)
Jennifer Hale, como Comandante Shepard (Mass Effect 3)
Melhor Performance Masculina
Dameon Clarke, como Handsome Jack (Borderlands 2)
Dave Fennoy, como Lee Everret (The Walking Dead – The Game)
James McCaffrey, como MAx Payne (Max Payne 3)
Nolan North, como Capitão Martin Walker (Spec Ops: The Line)
Melhor Adaptação
The Walking Dead: The Game
Disney Epic Mickey 2: The Power of Two
Lego Batman 2: DC Super Heroes
Transformers: Fall of Cybertron
Melhor DLC
Dawnguard (The Elder Scrolls V: Skyrim)
Leviathan (Mass Effect 3)
Machromancer Pack (Borderlands 2)
Perpetual Testing Initiative (Portal 2)
Melhor Jogo de Download
The Walking Dead – The Game
Fez
Journey
Sound Shapes
Melhor Jogo Social
You Don't Know Jack
Draw Something
Marvel: Avengers Alliance
Simcity Social
Personagem do Ano
Clap Trap (Borderlands 2)
Connor (Assassin's Creed III)
Commander Shepard (Mass Effect 3)
Master Chief (Halo4)
Raul Menendez (Call of Duty: Black Ops 2)
Jogo Mais Aguardado de 2013
GTA V
Biosock Infinite
Last of Us
Tomb Raider
South Park: The Stick of Truth